PRE-ORDER ITEM
DELIVERY IN TWO WEEKS
ROCKET R NINE ONE
The Rocket R NINE ONE is the top of the line domestic coffee machine by Rocket. However, don't mistake this for any domestic coffee machine: this is a true professional pressure profiling machine with an eye-catching Italian design, and the ability to program the machine however you prefer.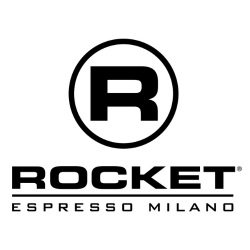 Even though the R NINE ONE is aimed for home use it has all the elements taken from Rocket's Commercial machines. Let's start with the boilers: it has one for brewing and one for steaming with respectively 1.9 L and 3.6 L capacity. The coffee machine is also fitted with a saturated group head for an incredibly stable temperature flow. But the party piece of this machine and the reason you will want this is the incredible pressure profiling system which allows you to dose the amount of pressure at any point of the brewing. You can save up to 5 different pressure profiles or select the manual pressure profile when you feel like experimenting. To select the exact pressure at any time there is a knob on top of the group head which you turn from left to right in order to select the desired pressure. You will be impressed with the precision of the knob, turn it just a few millimeters and it will change the pressure-flow instantly. In the touch screen, you will see a very cool line chart that will record the time and amount of pressure at each point of the extraction. Another function worth mentioning is the timer to program the on/off of the coffee machine. You can program it for each day of the week and it's very intuitive.
| | |
| --- | --- |
| Boiler Type | Dual Boiler |
| Boiler Material | Stainless Steel |
| Total Boiler Capacity | 5.5 (1.9 + 3.6) Liters |
| Wattage | 1600 W |
| Brew Group Type | Saturated Group System |
| Brew Group Material | Stainless Steel |
| Steam Wand | Yes (No-Burn) |
| Hot Water Supply | Yes |
| Pump Type | Gear |
| Variable Pressure Profile | Yes |
| PID Control | Yes |
| Shot Timer | Yes |
| Water Feed | Reservoir/Hard Plumbing |
| Reservoir Capacity | 2.5 Liters |
| Housing Material | Stainless Steel |
| Frame Material | Steel |
| Width | 410 Mm |
| Depth | 505 Mm |
| Height | 430 Mm |
| Net Weight | 47.4 Kg |
PROS
Pressure Profiling: through the use of the knob you can select the most precise and personalized pressure profile than any other coffee machine. It allows you to constantly experiment and to find the ideal amount of pressure for your coffee shot.
Built Quality: no matter the side you look at this machine, you will see quality and premium materials used from every angle. The coffee machines come in a wooden box too which is definitely a nice touch.