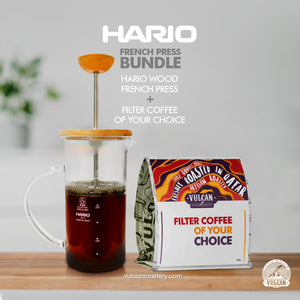 Back to basics✨Enjoy the simple pleasure of French Press brewing☕️

🔹HARIO Press Olive Wood is been made of a high quality heatproof glass, stainless steel and natural olive wood elements.🍃
🔸It is one of the easiest methods, versatile and an excellent choice for the rush of your morning cup.

Here is a recipe to enjoy any our filter coffees ⏬

🔹INGREDIENTS:
•18 grams of Vulcan Coffee
•300 grams of water

🔸STEPS:
1. Boil the water until 96c
2. Add 18 grams of coffee to your French Press
3. Pour in circles 300 grams of water
4. Wait for 5 minutes
5. Stir gently the grounds
6. Plunge the press all the way down
7. Enjoy your coffee!