EUREKA ATOM SPECIALTY 75
Eureka Atom Specialty 75 Coffee Grinder is as the name suggests, a grinder with a burr size of 75 mm. The Atom grinders are defined by state-of-the-art technology on a quality built robust grinder.
Eureka build grinders that would suit every coffee connoisseur.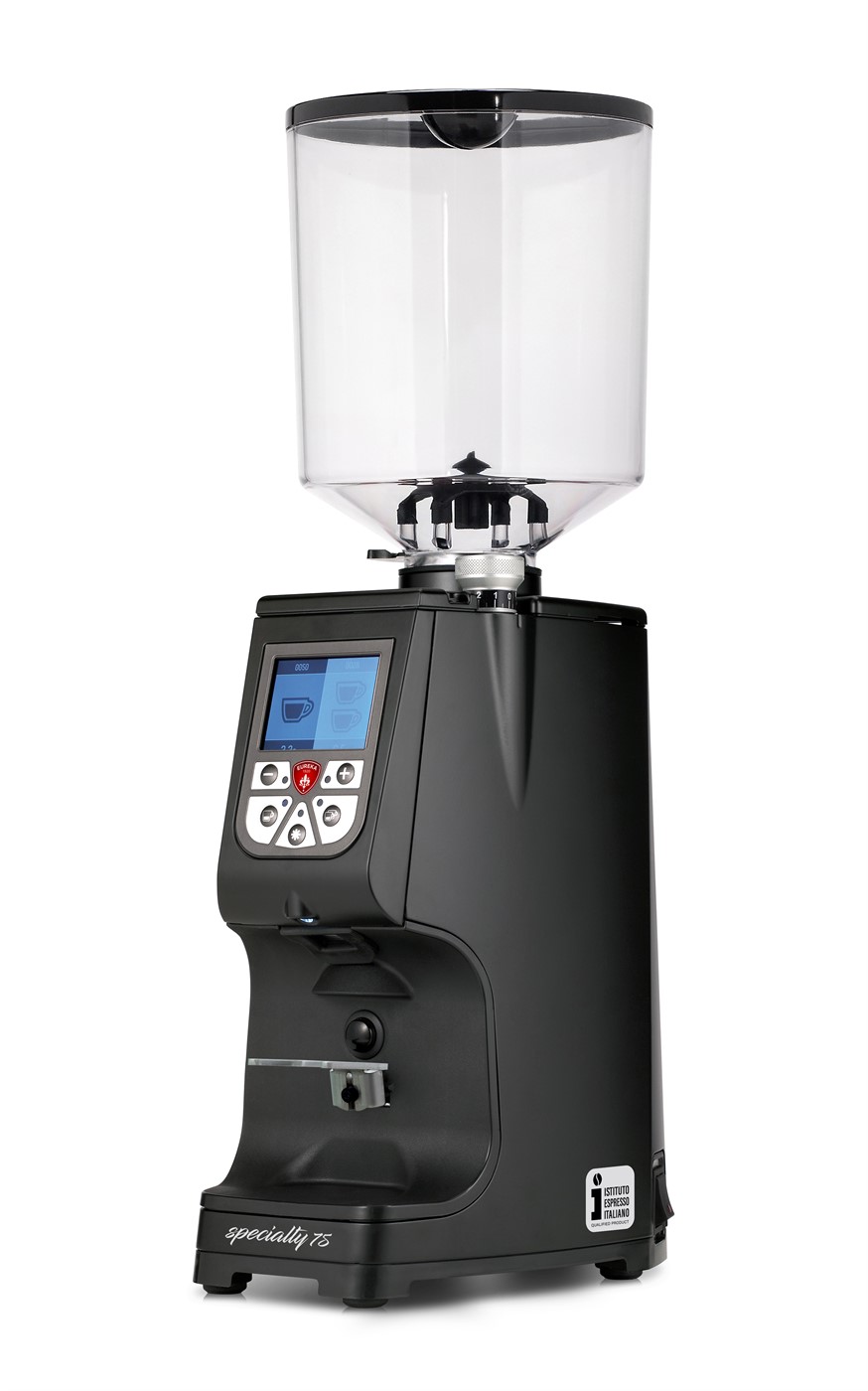 The grinder has an increased burr size of 75mm for faster output and quieter grinding.
Standard with the Atom Grinder is ease of use micrometric grind adjusting to hone in on the ideal grind. Dosing with the Eureka Atom 75 Coffee Grinder is direct in to your basket, hands-free no mess. Grinding by pressing the handle against the auto-start button, you can manually grind or use one of two intuitive pre-set programmed doses.
Proudly Italian made products that combine elegant design with innovative technology.
COFFEE GRINDER FEATURES
Silent Grinding Technology — Accurate quiet grinding using anti-vibration material reduces noise by 20db.
High Speed Grind Dispersion — Reaching extremely fast dispensing speed without giving up quality using a specialized burr set.
Programmable touch-screen — Set doses by time to jump between a single and double basket effortlessly.
Stepless Micrometric Grind Adjustment — Allowing small adjustments easily during your morning ritual.
ACE System Technology — Anti-Clumps & Electrostaticity operations eliminates common issues found with other grinders
Quality Manufacturing — Well-established hand-assembled manufacturing focussing on service and the customer needs.
PRODUCT SPECICATIONS
Height: 17.12" (21.25" with optional tall hopper)
Width: 8.07"
Depth: 8.94"
Weight: 21 lbs
Voltage: 110V
Watts: 800W
Burr speed: 1400 RPM
Bean hopper capacity: 300g
Optional tall hopper capacity: 1200g
DETAILS
75mm flat hardened steel burr grinder
Grinds for espresso and all other brew methods
Stepless grind adjustment
Eureka "ACE" System (anti-clumps & anti-static)
Aluminum casing
Extremely quiet
Programmable Dosing Functionality
Optional

 Red Speed

 burrs available
ETL/NSF certified for commercial use
1-year parts and labor warranty provided by Vulcan Coffee Roastery