EL SALVADOR - FINCA LAS BRISAS
The producer Carlos Pola has dedicated his life to revolutionizing specialty coffee production.
FARM: Finca Las Brisas

VARIETAL: Parainema
PROCESSING: Honey
ALTITUDE: 1,200 to 2,030 meters above sea level
PRODUCER: Carlos Pola
REGION: Apaneca, Sonsonate
TASTING NOTES: Strawberry, Honey, Milk Chocolate, Almond

Carlos leveraged his background in the textile industry to develop a traceability application, establish new quality control procedures on his lab and determine the best ecological methods for promoting plant growth. Carlos continues to work with as many farmers as possible to help them adopt his practices on their own farms.
Carlos Pola descends from a family of coffee farmers. He purchased Finca Las Brisas in 1997 while he was working in the textile industry. By 2012, he switched to working in coffee full time. His vision is to produce sustainable specialty coffee by applying his textile industry experience of quality control, efficiency and data management to coffee production on Finca Las Brisas.
The farm has its own lab for experimenting with new processing methods, quality control and educating farm workers in specialty coffee. Carlos believes in supporting his community and helping as many farmers as possible embrace specialty coffee. He has channeled his passion for traceability into an applicable that traces coffee from the day it is harvested to the shipping lot.


CULTIVATION
When Carlos dedicated himself to producing coffee fulltime in 2012, he renovated the farm to create a farm focused on a dramatically new, sustainable and cost-effective production. Carlos has substantially reduced the farm's use of chemical pesticides and fertilizers by adopting a specific combination of scientific theory and coffee producers know-how.
Trees are planted in double rows and shaded by nitrogen-fixing trees. Carlos has even spread specific fungi that have symbiotic relationships with coffee trees and can actually help trees be more efficient at absorbing nitrogen and phosphorus.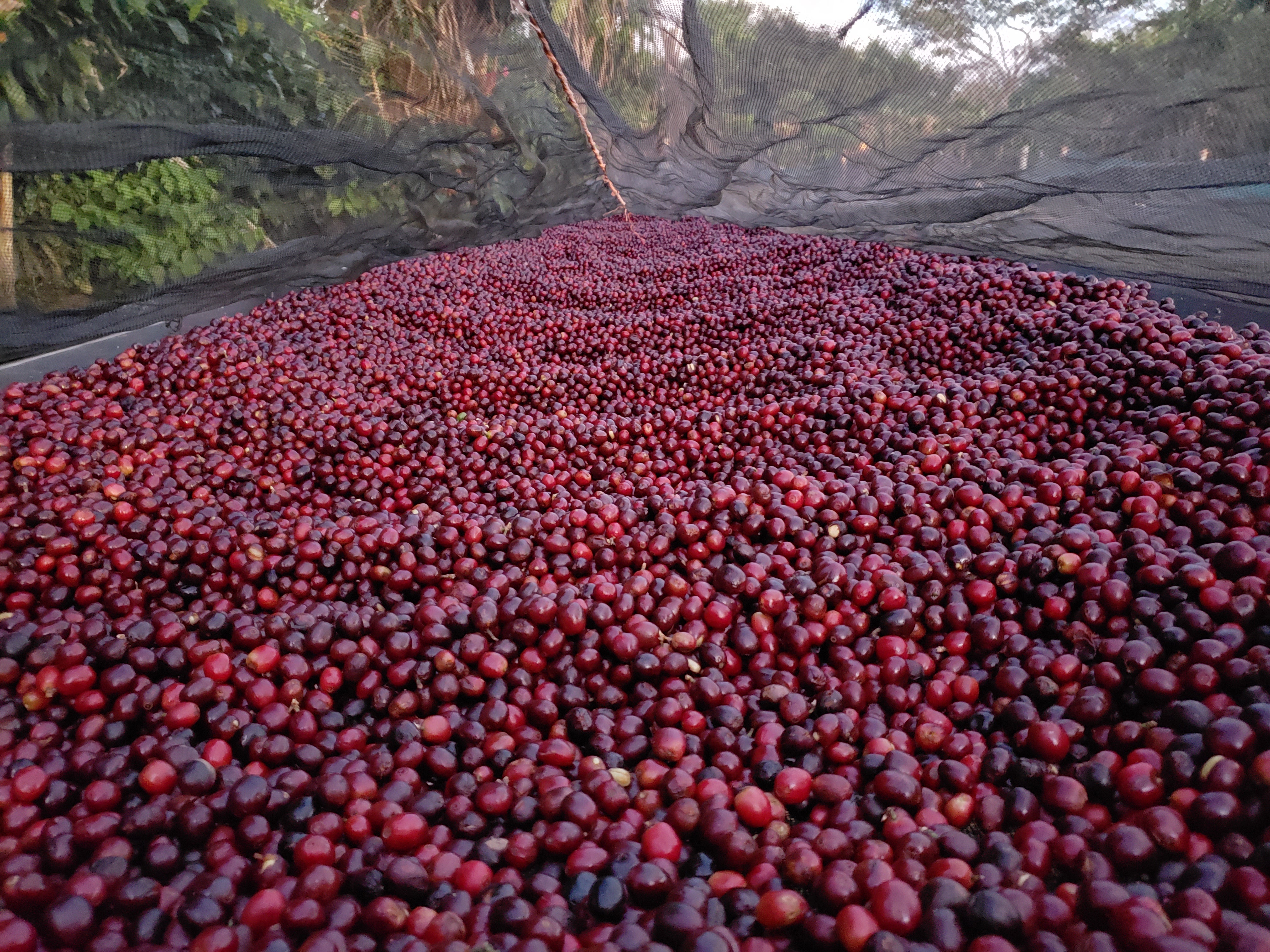 HARVEST & POST-HARVEST
Cherry is selectively handpicked and placed on raised beds to dry under shade for 3 days. Then, cherry is pulped and parchment and remaining mucilage is dried on a raised beds. Parchment is raked frequently to ensure even drying. It takes approximate 15 to 20 days for parchment to dry.
Dried parchment is stored on the farm for several days and then transported to Cooperative La Cuzcachapa in Chalchuapa, Santa Ana to be prepared for export.
In line with his focus on ecologically-sound methods, Carlos only uses honey, natural and controlled fermentation processes to help reduce Finca La Brisas' water consumption. Any water used in processing is carefully treated to reduce its environmental impact. Water is anaerobically fermented in sealed tanks where solids are broken down. This nutrient-rich solution is used to spread the fungi that support symbiotic nutrient uptake in coffee trees.
ABOUT PARAINEMA
Parainema was first bred by IHCAFE (Instituto Hondureño del Café) in the 1980s. Part of the Sarchimor family, Parainema is coffee leaf rust (CLR) resistant. It does well at medium altitude and is a dwarf plant, which allows farmers to plant trees more densely to maximize yield per hectare.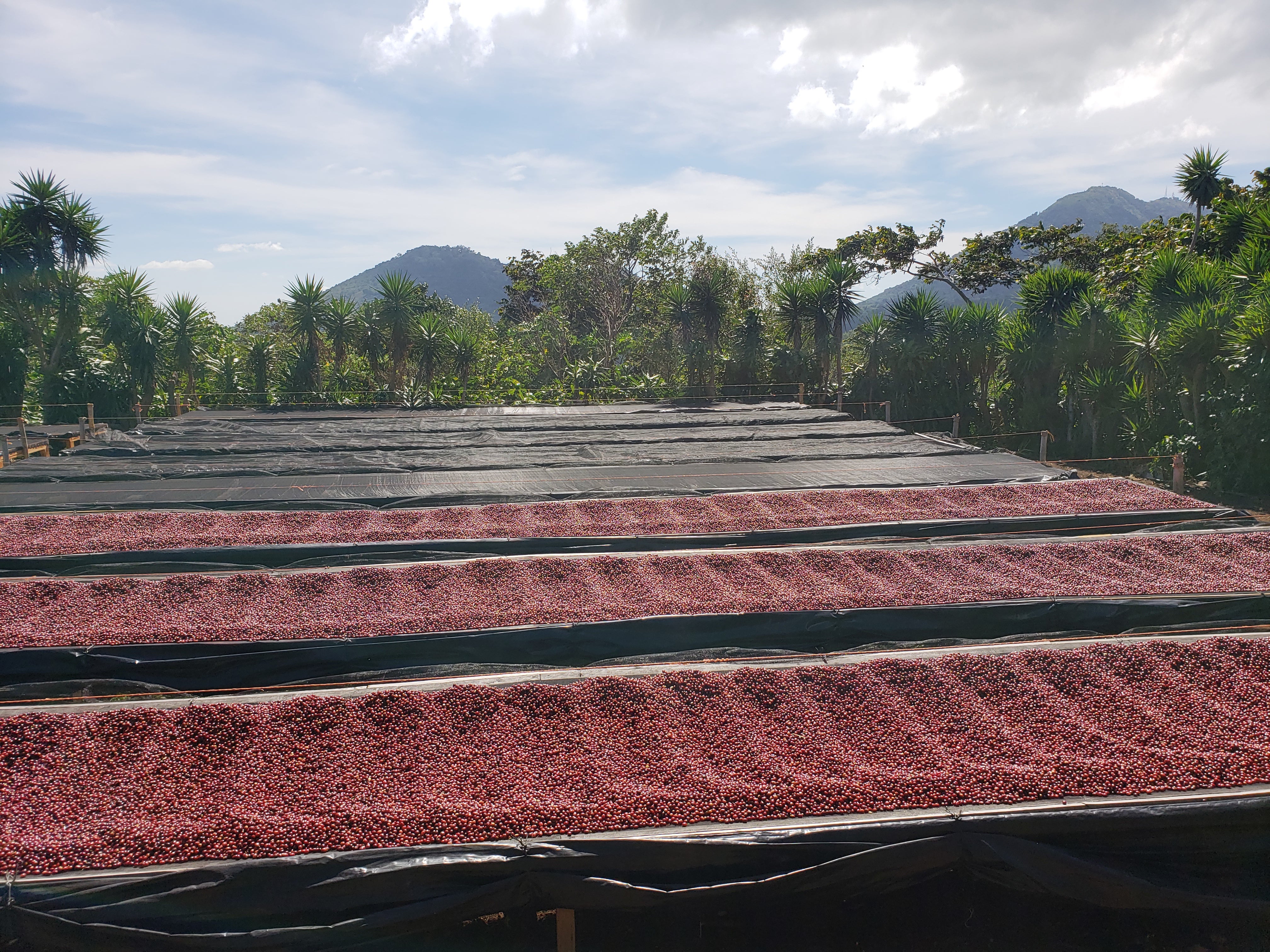 EL SALVADOR
Don't be fooled by El Salvador's small size. It was once the 4th largest coffee producer worldwide and continues to produce high quality lots. The country is known for its great cupping varieties, such as Bourbon and Pacamara. In fact, two beloved, frequently high-scoring varieties—Pacas and Pacamara— originated in El Salvador.
Unlike other countries, where specialty coffee production has required a great deal of additional investment and training, El Salvador already has a broad and skilled specialty coffee workforce. Farming traditions run deep, and many Salvadorian farmers are extremely passionate about coffee production and continuously strive to improve their crop. El Salvador has optimal conditions for coffee processing. The prolonged dry season typically occurs during the harvest season, making it easier to sun dry coffee.
Though coffee output in the country has been declining for over two decades – exacerbated by the CLR crisis – the approach to coffee production has changed from volume- to quality-driven. A new generation of coffee producers has sprouted around the country with a new vision and approach to production. Many of this generation are experimenting with processing and varietals.